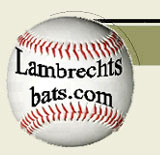 Contact:
Lambrechtsbats.com
5646 Bohnsack Way
New Prague, MN 56071
Phone: 952-758-2462
Cell: 952-797-3862
Fax: 952-758-7580
Email: LyleL8@aol.com

Personalized wood baseball bats made from White Ash or Hard Maple!
New this winter - Mini/Knee Hockey and Goalie Sticks
---

Many state amateur ball players use these bats with great satsisfaction and they make great gifts!

You can choose the desired wood, model, and length. You can also have your bat personalized for free. They make great gifts for birthdays, Christmas, and your little league coaches!
We also have many products that make great trophies and awards.